WARNING: This is a long post, but please keep reading. You might... enough said for now:)
Let's begin with a
SHOUT OUT
for my newest bloggy friend Tamara over at Mrs. Russell's Room. She is celebrating her one year bloggerversary by giving away some terrific items and flash freebies. Make sure you stop by her blog, wish her Happy Anniversary, collect a freebie or two, and enter her awesome giveaways. Just click on her button below and off you'll go. Just remember to come back here for a passel of linky parties.
And now for the LINKY PARTIES!!! I LOVE, LOVE, LOVE linky parties. They are a great tool resource toy for connecting with other bloggers with similar interests. I've met so many sweet bloggy friends via linky parties, and I'm hoping on doing the same today. There are three new linky parties that I am featuring today.
FIRST UP is a linky hosted by two terrific bloggers, Teaching is a Gift and A Teacher without a Class (make sure you definitely visit the latter blogger; she is giving away an AWESOME gift). This linky was created so that we bloggers could remain connected since Google Reader went kaput! Bloglovin' is now THE way to follow our favorite blogs and find new ones... I've got to say that I really, really prefer Bloglovin'. I would never have even considered it prior to the disappearance of Google Reader. I'm of that adage, "If it ain't broke, don't fix it," so when I start with something I stay with something. I like the ease and format of the Bloglovin' newsletter, the maneuverability through its site, and the MANY more blogs with which I've connected! If you haven't added your blog to this linky, come and join now. Just click the badge below and follow the directions. If you don't want to join, click anyway so that you can see and visit the great collection of teacher blogs hosted there.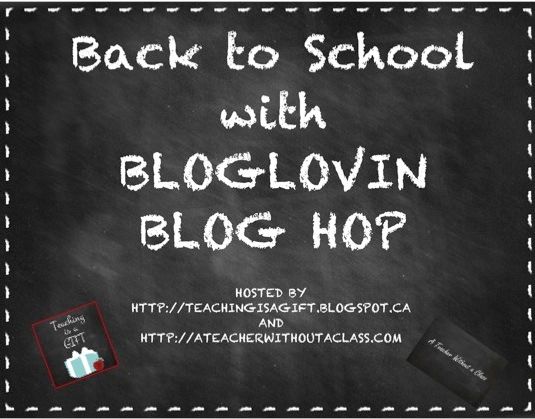 NEXT
is a linky tailored specifically for me. If you are one of my sweet bloggy friends and visit The Teacher's Desk 6 then you know that I am seriously in LOVE with Pinterest. There are two weekly linky parties about Pinterest that I already frequent, I have the widget embedded in my right sidebar, and I find every excuse to include a pin in a blog post whenever I can. Soooooo when I became connected with
Upper Grades Are Awesome
(I have to agree that upper grades ARE awesome) via Bloglovin' and found this linky party I was excited!!!! This linky asks you to share your top ten pins from all of your Pinterest ideas that you are planning to use or would like to use in your classroom for the coming year. Here are mine, not necessarily the top ten 'cause I have more than ten fer shure, but still ten really good ones:
1. I will be teaching three sections of Language Arts this coming year (5, 6, and 8th grade). An idea like this could be a REALLY useful organizational tool for me.
2. I plan on doing domain specific vocabulary with all of my classes. This idea looks easy and adaptable for my purposes.
3. I love this idea! When I saw it, I immediately knew I would be using it, but expanding it to be about synonyms for color words, a unit I do with my sixth graders each year when we talk about adding variety to our writing (the trait of word choice).
4. An idea for practicing nonfiction text features...
5. and 6. Two great pictures to add to my picture prompts for Writing Workshop...
7. A MUST HAVE tool... I make a copy for each grade that I teach and keep them on a clipboard.
8. A fun way to practice dreary grammar skills...
9. I can't wait to try this one with my sixers!
10. My back to school treat for my homeroom kiddos... LOVE it!
To follow this linky or add your favorite pins in your own post on your blog just click on the badge below.
The
LAST
linky for today is a brand new one. It's hosted by another new bloggy friend, Amy over at
24/7 Teacher
. Amy invites us to Celebrate Sweet Summer Successes... love the alliteration! This week I am sharing two sweet successes. First, I reached 100 followers with the help of Bloglovin' and am organizing a sweet, little giveaway. To read more about it or participate (last day for participation is July 8th), just click the badge below.
Second, I added several new products to my
TpT store
and have worked on about five or six more... phew! Will I ever finish them? One of the products I did complete this past week is a cute powerpoint that employs the hamburger model for writing paragraphs. It is quite interactive, containing sound and visual effects, as well as hyperlinks to internet websites. I've used it with my fifth graders for several years and they LOVE it! Please click on the picture for more information and views.
To visit the Sweet Summer Success linky just click Amy's badge below... but please come back and finish reading the rest of this blog post.
There is a little surprise for you.
AND NOW FOR THE SURPRISE
... if you stuck with this LONG, LONG, LONG post then you deserve a little gift. Just leave a blog comment below along with your email address and I will send you my hamburger powerpoint presentation as a thank you for being so kind, listening to me ramble on!
Happy Linky Parties,
Happy Teaching,
Angela
The Teacher's Desk 6